In Just 15 Minutes a Day!
Day 2 of the Digital Declutter Challenge
Declutter Your Email
Oh email. It never stops. No matter how much you "unsubscribe" or how mindful you are about not signing up for yet another email list, they still come. It's like that scene in Harry Potter when the owls try to deliver Harry's Hogwarts Letter. No matter what you do, the emails will find you. And hiding from emails or not dealing with them only makes the amount of emails compound faster. For today's challenge, I want to help you build a system that will allow you to declutter your email in just 15 minutes a day.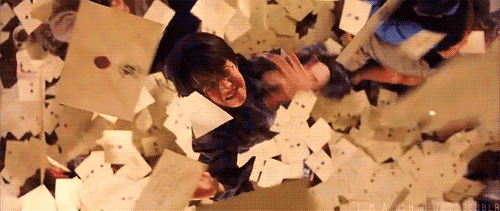 Inbox Zero
When I worked as a teacher, the realization of how unorganized I really was when it came to email was overtly apparent. My Inbox Disorganization coupled with the incredible amount of emails I received daily was overwhelming. I would sit down in the morning, deal with 20 emails and then by the time I taught my morning classes, I would come back and 50 emails were back in their place. I could easily do nothing but deal with emails all day if I wasn't careful.
It was during this time (and probably because of my venting) I had a coworker introduce me to the phrase "Inbox Zero." I had never heard of this before. She said she kept her inbox COMPLETELY EMPTY. Her Inbox read 0 messages. WHAA??? HUH? This is possible? The thought sounded so freeing. So, I did a crazy thing. I DELETED MY ENTIRE INBOX right then and there. Now, this was only my school email, but man, it was an awesome feeling.
The Emails Returned
While "inbox zero" is a wonderful feeling (for me!) I realized I needed some sort of system to either keep my Inbox at Inbox zero or maximize the time I did spend with email. This is when I decided that 15 minutes a day was all I was going to spend on email in a day. I try to keep my inbox at inbox zero, but now, it doesn't stress me out if it's not at zero. Emails (like photos and paper) are a constant in life. You just have to find a good system for decluttering and organizing your emails on a continual basis. For an interesting read about how the Inbox Zero concept was completely misconstrued, I enjoyed the article Everything You Thought You Knew About Inbox Zero Was Wrong. In it he says to NEVER do what I do and delete the entire Inbox at once…Whoops! 😬
15 Minutes a Day Challenge
So for today, I want you to take 15 minutes and DELETE as many emails as you can as fast as you can. Pick emails that are easy to delete. Similar to deleting photos or files, it's sometimes easier to go back a few months (or years!) and delete emails from the past. You can search for specific emails and delete them all at once. No matter what I do or where I move, MACY's always finds me. I have unsubscribed numerous times but the emails keep coming back! Kudos to the Macy's email marketing team, you WIN, you always do!
The Process: Delete, Unsubscribe, File, Repeat Forever (Ha!)
If you are already the Master of Inbox Zero, take this 15 minutes to unsubscribe to any emails that may have seeped through lately. Or, if you are already on top of that, go back and delete filed or archived emails that are no longer relevant. If you are already master of ALL THAT IS EMAIL, then BRAVO! I'm envious of your level of email organization. But, if you are like most people and have a red number with 3 (or gasp!) 4 digits next to your email icon, start with 15 minutes today and build it into your routine. Delete easy to delete emails. Unsubscribe to as many emails as you can. Categorize and file any emails that you want to keep. Finally, make sure that you have a system to mark your emails that need action. Over time, you will begin to declutter your email little by little.
Now that I think about it, my process for email is almost identical to my paper process. To read more about how I deal with paper you can read 5 Steps to Declutter Your Paper.
My Email Routine
I tend to take my coffee time in the morning to easily delete any emails that have come in. Then, I'll unsubscribe to one or two if I notice I've been getting an over abundance of emails from the same person or company. I tend to deal with my "unread" emails at a later point when I'm sufficiently caffeinated and ready to tackle my "To Do" list. By doing a little at a time, I'm not constantly responding to email. My inbox never really gets to a point that is unmanageable.
Now, for me, email is a daily 15 minute task. Occasionally, I need to spend a little more time. Usually when life gets really busy, I can see it reflected in my email inbox. It's normally after a hectic season that I make myself sit down and confront my emails. I feel calmer when I have sufficiently dealt with them, and I am more able to respond to any new, important messages that come through.
One tip that helps: I have email notifications TURNED OFF on my phone as this would drive me bonkers. There is no email that is an absolute emergency. If you are sending an email that is an Emergency, please don't. Pick up the phone and call. If you have a boss or a work situation that requires you to respond to emails immediately, try to set up notifications for specific senders and not ALL senders. Set up time limits for when you will respond immediately and times when you absolutely will NOT respond. Your time is precious and email should not take precedence over the things that really matter… like Netflix or sleep. 😂
Find What Works For You
I think for any organizational system or habit, you have to find what works for you. If opening your email in the morning makes you crazy, find another time. If you need more specific "action" and "to do" categories, then create them. Do what works for you and stick with it. If you are feeling overwhelmed or over burdened by the amount of emails you are receiving daily, perhaps it is time to reevaluate your system. Challenge yourself to 15 minutes a day for one week and see how you feel. Are you less overwhelmed? Are you answering all the relevant emails? Do you feel less stressed when looking at your inbox?
How have you come to find peace with your email? Have any tips or tricks to share? Please, I'd love to hear them!
If you would like to read about the other days in the 7 Day Digital Declutter Challenge please read the articles here: